CORRECTION: A Gerald Ruhming Tale of Terror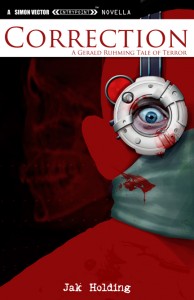 First of all, as should be obvious from the page count, this is a NOVELLA, not a novel.  It's priced accordingly and is a good value.  I peg the word count at roughly 20,000, which is appropriate novella (short novel) length.  You can read through this horror story in a single sitting and I think you will enjoy every minute of the experience.  That is, you'll enjoy it if you like visceral, bloody, messy horror.
One of the things I like about a new world — a new universe, coinciding with the founding of a new intellectual property — is the nearly endless opportunity to expand and flesh out this new reality.  That's one of the things I found most gratifying about League Entertainment's SIMON VECTOR.  There's a whole new version of human existence, politics, war, conflict, and so on, just waiting to be explored.  SIMON VECTOR does this well, giving us descriptions about its universe that range from thorough explanations to tantalizing hints.
The same is true of its characters.  We don't get a tremendous amount of backstory for these characters because SIMON VECTOR is first a suspense novel, then an action tale (owing to its methodically tense build-up and then epic action climax).  If you're like me, once you find a character that interests you, you never really get tired of learning more about him.  SIMON VECTOR offers such a fascinating cast of supporting characters — many of them horrible villains — that you can't help but want to know more about, especially if that "more" involves what makes a man a serial killer so horrrible he is imprisoned in the most remote hole in the galaxy.
One of my favorite sequences in SIMON VECTOR involves Gerald Ruhming, "The Mad Doctor of Mars."  I won't spoil it for you here if you haven't read SIMON VECTOR.  You don't need to have read that in order to read CORRECTION, as both stories stand alone.  But reading one will definitely enhance your enjoyment of the other.  CORRECTION is nothing less than a full-on origin story.  It's "SAW" meets "7even" meets "Silence of the Lambs," although please don't read anything so trite into my use of that phrasing.  I'm just trying to convey the mood of the story.
This is a horrifying tale.  It's not gentle.  It's brutal, bloody, gory, and incredibly creepy.  Gerald Ruhming is a monstrous figure, not because he knows what makes him torture, mutilate, and kill… but because he doesn't.  The self-awareness necessary to analyze his actions never seems to be part of his equation.  He's completely insane, yes.  But he's also slow.  Something about him just isn't RIGHT, and it's that out-of-kilter wrongness that makes him completely oblivious to the pain and damage he causes, except insofar as he enjoys what he's doing.
As a simple-minded monster, he is the most repellant of villains.  He verges on sympathetic but never quite gets there.  He disgusts you and terrifies you because he is, in his slow-witted unawareness, completely implacable.  You can't argue or bargain with a creature who doesn't himself know why he does what he does.
As a novella, CORRECTION reads like a cop story, as two Martian detectives race to rescue Ruhming's last victim.  Intercut with this storyline are the harrowing accounts of Ruhming's torment of his captive — not for the faint of heart and certainly not for young readers — and also Ruhming's backstory.  To say he had a troubled childhood is an understatement.
Read CORRECTION and it will make Ruhming's ultimate role in SIMON VECTOR that much more satisfying.  Read SIMON VECTOR and it will make you want to know the story behind CORRECTION.  Read this novella alone and you will turn on all the lights, if you don't simply wait for someone else to come home.
Buy CORRECTION today for your Kindle device and support League Entertainment!