Grassroots 'FUBO' Campaign Goes National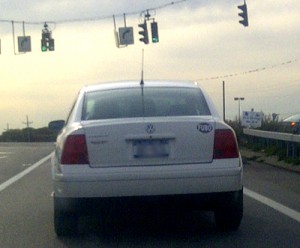 A controversial grassroots effort devoted to the profane phrase, "F— You, Barack Obama" has grown from a local venture to a national movement, using the Internet and social media to build momentum.
The campaign is built around local AM radio talk show host Bob Lonsberry's t-shirts and bumper stickers critical of President Obama. Using his program to promote the campaign (while sharing his profits with the corporation that employs him), Lonsberry has brought his "FUBO" and "NOBO" stickers and apparel to an audience eager to express dissatisfaction with Obama's policies. The campaign started shortly after Obama's inauguration.
"I was trying to think of a way to show that I wasn't happy," Lonsberry wrote in his daily web column on 20 February, 2009. "That I was tired of bailouts. That I didn't want to pay my neighbors' mortgage. That I didn't want to live in a socialist country." The acronym FUBO, he says, was "short" and "decipherable."
Helming a local AM talk show in Rochester, NY, in a time slot sandwiched between syndicated giants Glenn Beck and Rush Limbaugh, Lonsberry is no stranger to political controversy. He is formerly a newspaper columnist and has, more than once, been fired for comments he believes were deemed politically incorrect or unpopular.
Lonsberry described his FUBO idea on air and was soon contacted by Dean Nicosia, an employee at a local contract printing and embroidery shop. Working with the shop's owner, Nicosia and Lonsberry set up their initial FUBO offerings.
Response to the fledgling campaign was immediate. "It was a huge hit that first day and month and has lived on ever since," Nicosia says. "Within the next 6 months we launched a dedicated FUBOwear store, and today we have over 150 products available."
Just as immediate was the response from Lonsberry's employers and critics. One of Lonsberry's bosses contacted him and suggested "FUBOB" as a natural counterpoint. The idea was eventually but briefly taken up by a fellow employee, a morning radio host who goes by the moniker "Brother Wease."
"The shirts and sticker they made were FUBL," explains Nicosia. "I think they made a short run of them and sold them in a few local places, but they don't have a presence online." Nicosia and Lonsberry now offer their own FUBOB shirt at their website.
Alan "Brother Wease" Levin (who claims to have had his name legally changed to his radio identity years ago) has been a fixture in the Rochester metro area for years. A Vietnam veteran, Levin is also notorious for his far-left opinions, which he expresses on his "morning-zoo" format radio show.
"I'm a liberal… [and] I think 'FUBO' is about as ignorant as could ever be," Levin told WND. "It's pretty funny that Rush Limbaugh, Sean Hannity, Mark Levin, Mike Savage… none of those guys ever put out a FUBO sticker. Why do you think that is? …I'll tell you why I think it is, they'd be laughed out of the country, it's so …damned ignorant."
"Wease" believes a local radio broadcaster like Bob Lonsberry can get away with such a campaign because he lacks national prominence. "I mean, obviously [conservative radio talk show hosts] hate Barack Obama; they spend every day of their careers [criticizing] the guy. [But] Glenn Beck wouldn't even do that," he insists of the FUBO campaign, "and he's all over the stickers."
Levin says that he stopped printing the anti-Lonsberry FUBL stickers because he worried people who saw them wouldn't know they weren't part of the FUBO campaign.
"We're talking about two different guys," he says. "One is the most famous guy on the planet. The other has a radio show on WHAM. Who do you think people know? How many listeners do you think Bob [Lonsberry] has? …It's not many."
Lonsberry disagrees. "As I understand it," he says, "in the most popular demographic — people 25 to 54 — I am number one in the ratings and Wease is number three. Talk radio's specific audience is men 25 to 54, and in that demographic I have a 15 share which, in the ratings world, is not so bad."
Do the numbers equate to political influence? Lonsberry dismisses the idea. "Influence is hard to measure," he says, "and possibly pointless. Typically, though, I encourage people to read and follow the Constitution, and Wease encourages them to gamble and drink."
Dean Nicosia points out that FUBO products have been shipped to all 50 states, Canada, and Saudi Arabia (to the wife of an American pilot living there) and continue to sell well. "We ship out at least a few orders every week to other states," he explains, adding that his work with FUBO and its website has given him the opportunity to work with Search Engine Optimization techniques, social media like Facebook and Twitter, and modern digital product technology such as Direct To Garment (DTG) printing. He attributes the success of FUBO as a movement to the confluence of these.
"Any grassroots movement needs a good vehicle, which the word FUBO is," Nicosia says. "It needs fuel, which the current economic and political climate, and frustration with this president, provides. And it needs roads to travel on, which is provided by the Internet [and social media] specifically."
Nicosia sees the FUBO movement as one that will persist after Obama's presidency. "We plan on living beyond Barack Obama," he says, "and becoming a conservative web store." While he has no plans to get into politics beyond his commercial ventures, Nicosia believes Lonsberry will remain at the forefront of local and national activism. "I hope Bob stays right where he is, calling these politicians to task and helping the average American find their voice."
Lonsberry rejects the label that implies. "I hate the word 'activist,'" he says. "I am an American. I stand up for what I believe is right. I happen to be a writer and broadcaster, and from where I am in life I stand up for what I believe. if I stood somewhere else in life, I would stand up for it there."